Boscawen, NH
Main Office
195 North Main Street
Boscawen, NH 03303
Local:
603-753-4176
1-800-762-5966
Fax:
603-753-8614
Dispatch Email:
dispatch@rossexpress.com
---
Auburn, MA
2 Commerce Drive
Auburn, MA 01501
Local:
508-234-7777
1-877-878-8588
Fax:
508-234-9633
Dispatch Email:
dispatchma@rossexpress.com
---
West Springfield, MA
1311 Union St Ext.
West Springfield, MA 01089
Local:
860-627-9520
1-877-297-9268
Fax:
860-627-9530
Dispatch Email:
dispatchct@rossexpress.com
---
Auburn, ME
439 Washington Street
Auburn, ME 04210
Local:
207-782-0002
1-800-205-3800
Fax:
207-782-3540
Dispatch Email:
dispatchme@rossexpress.com
---
Bangor, ME
1-800-762-5966
Fax:
207-947-2573
Dispatch Email:
dispatch@rossexpress.com
---
Hartford, VT
1700 Rt. 14
Hartford, VT 05047
Local:
802-280-1855
1-877-902-2300
Fax:
802-280-1853
Dispatch Email:
dispatchvt@rossexpress.com
---
Email
Customer Service:
custsvc@rossexpress.com
Information:
info@rossexpress.com
Sales:
sales@rossexpress.com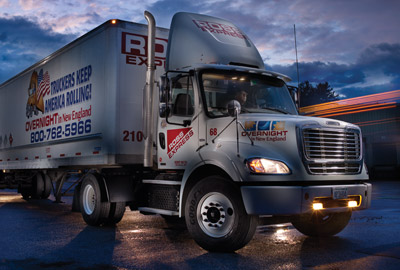 Going the Extra Mile
With 189 highly trained professional drivers, and over 100 support staff, we respond to your needs as if they were our own – quickly, accurately, and reliably. All of our tractor trailers are equipped for every type of shipment, and our secure terminal locations provide heated indoor storage and a full complement of freight handling equipment. Our tractors are late model Freightliners and Sterlings equipped with two way communication. Our trailers are outfitted with:
GPS tracking
Brace bars
Nylon-webbed security straps
Hydraulic pallet jacks
Logistics posts
In addition to the standard level of service, Ross Express offers the following services at no cost:
Price quotes available before shipping
Assessing your cost and routing status to ensure your freight dollar is buying maximum service
Weighing your shipment when/if you're unable to do so
The following services are offered at a nominal fee:
Intermodal service
Power lift gate service
Handling COD shipments
Providing inside pickup and delivery via hand truck
Notifying the "ship-to" customer of your delivery and making any needed arrangements
Handling of hazardous material
Pallet unloading
Finally, Ross Express promises you the best possible price without sacrificing quality, reliability, or accuracy. We want you as our customer for a long time, and we work hard to keep you happy. You deserve no less from your freight company.