Downloadable Documents
---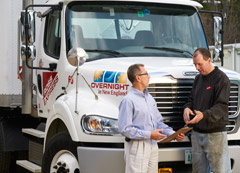 Everything All In One Place
The resources section contains all of the downloadable documents for your shipping needs – everything from a Bill of Lading to State and Federal permits and licenses.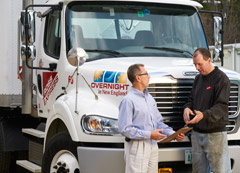 Wherever, whenever and whatever your shipping needs Ross Express can handle them fast, affordably, and reliably. Serving our customers as if we are their transportation department is what we're all about.
Founded in 1947 as a one-truck freight company serving Concord, NH, we've since grown to serve Connecticut, New Hampshire, Maine, Massachusetts, Rhode Island and Vermont. Ross Logistics offers dependable price competitive second day service to Delaware, Maryland, New York, New Jersey and Pennsylvania. In addition, Ross has connections to interline carriers from coast-to-coast, as well as Canada and Puerto Rico. As part of our growth, we remain committed to the same corporate philosophy established by the company's founders:
Deliver the highest standard of service in the transportation industry, complemented with a fierce commitment to the highest standards of excellence in customer satisfaction, personal growth, respect for all staff, and continuous improvement in all areas of the business.
We're proud of our accomplishments and our ability to keep pace with changes in the industry over the years. For instance, with the just-in-time distribution demand of e-commerce, we bring a wealth of experience to this evolving market, and that brings peace of mind to many of our customers.
For worry-free pick-up, delivery, distribution, assembly, consolidation, and more - at prices which may well be less than what you're paying now - call Ross Express. We feel confident you'll agree we're the finest Less-than-Truck Load (LTL) freight company in the Northeast.